Digital Birthday Marketing Club
Keep Your Business Full During Non-Peak Hours, Attract New Customers and More Importantly, Increase Sales!
Reach 100's of NEW and existing customers every month on an on-going basis willing to spend $78

or more

per visit!
Note that the video above is directed towards restaurants, however, our Electronic Birthday Club
has been effectively implemented into many other business niches such as bars, nightclubs,
hair and nail salons, massage therapy, car washes, tanning and many others
"We work with businesses in your local area to help them increase foot traffic, sales and customer retention. Recently we've been having great success with a new program we created called Electronic Birthday Club. Our program helps local businesses get more NEW customers, retain current customers, and it's done on an on-going continual basis. Our Digital Birthday Club marketing system allows us to
geographically target
hundreds, even thousands of
people on a daily basis
within a
10 mile radius of your business
who's
birthday
is
within the current month
! We then send these customers to your business utilizing a customizable birthday 'coupon' (
which can be seen here
) to celebrate their special day!"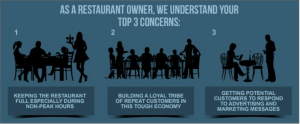 Why Should You Have an Electronic Birthday Club Program at Your Business?
We'll use the restaurant industry as an example:
Birthday customers are the most valuable customer for your restaurant
More than 55% of Americans eat out on their birthday
The average reservation for a birthday party is 3-4 people
According to the National Restaurant Association, an average birthday patron spends $78 per table
As we originally set-up this program for the restaurant industry (see the video above), it works incredibly well in other business types also including bars, nightclubs, hair and nail salons, massage therapy, car washes, tanning and many others.
We've perfected a process that allows us to send your business BRAND NEW customers that most likely have not visited before. It's not uncommon for our system to drive multiple customers through your door on a daily basis forcing increased sales while your business becomes the talk of the town!
Since we are so confident in our approach, we practice exclusivity. Meaning, we only work with 3-7 businesses per geographic region, within a certain industry, to maintain the effectiveness of our program.
Will your business be one of them?
Here's How Our Program Works:
Banner Advertisement
Video Advertisement

HIGHLY TARGETED MARKETING: First, we put your business in front of a highly targeted audience of people utilizing both banner and video advertising (examples above) who will be celebrating a birthday within the current month. This advertisement is geographically targeted to only show to birthday patrons within 10 miles of your business. Once the potential customer views and clicks on the banner or video advertisement they are taken to custom registration page. Because our process reaches these potential customers within weeks of their birthday, they are the most highly targeted, fresh, & qualified leads you could ever have!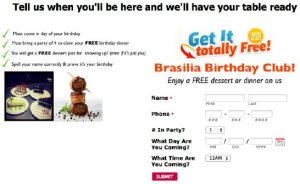 CUSTOM REGISTRATION WEBSITE: Next, your potential guest fills out a registration form where they will be required to provide at least their name, eMail and mobile phone #. If you'd like you may also require them to provide other information including possibly the number of people in their party, date of arrival, & time they are planning to come (a restaurant example above). Note that this form is customizable based on the type of business being marketed.




FOLLOW UP & NOTIFICATIONS: We create personalized eMail and/or text follow up campaigns reminding the birthday guest to visit your business to get aBirthdayGiftOnUs.com (actually you). Those same follow-ups include a customizable coupon that the new customer will be required to present in order to get their birthday gift. We'll also set up yearly eMail follow-ups providing your new customers a birthday coupon so that they visit again-and-again creating on-going repeat business and increased revenue. These yearly follow-ups work extremely well for bars, nightclubs and restaurants as most people celebrate their birthday with friends and family meaning larger "group spends". In addition, and based on the package you choose, we notify you and/or your staff via eMail of every customer lead that submits a form allowing your team to perform timely follow-ups. And, because you now have an eMail/text message list, you'll have the ability to promote deals, sales and specials to these customers on a continual on-going basis (or we can do this for you).

"We drive the most qualified leads to your business. You ensure they show. Its a win-win!"
We've truly created a sustainable system that will produce new customers on a daily basis to your business. If you can benefit from a steady flow of new customers, and would like to be one of the exclusive businesses we deploy into our Digital Birthday Marketing Club, then make sure to proceed to the next step below to see if your business qualifies for a custom Electronic Birthday Club.

CORE BENEFITS OF HAVING A CUSTOM DIGITAL BIRTHDAY CLUB
Create a noticeable R.O.I to make your advertising dollars work better for cheaper
Create a steady stream of new customers on an on-going basis
Create a strong sense of affinity throughout the community
Be one of the premier businesses in your area offering a "birthday club" and become the talk of the town!
Get daily visibility and exposure to your business. You'll get in front of NEW customers every day!
You'll be able to reach these new customers as well as current clientele with your deals and specials on an on-going basis utilizing eMail and/or text message marketing!
If you're a bar, nightclub or restaurant, consider that birthday customers seldom eat alone meaning you'll enjoy large 'group' transactions using the Electronic Birthday Club system
Create positive cash flow
Unique and highly effective way to increase sales
Enhance your reputation throughout town!
Your Electronic Birthday Club website is mobile friendly meaning it is viewable and manageable on all mobile devices including iPhone, Android phones, iPad and notebooks (you can view other devices here)




Imagine if you could generate just 3 new birthday customers per day with an $78 transaction (according to the National Restaurant Association), what would that do to the bottom line of your business? It would increase your business by $6,720 per month and a $80,000 revenue increase over the course of a year.
If you would like to learn more on how your business can have a custom birthday club, then click the button below to follow the instructions. For your benefit, take our program for a test drive on us! Our staff will contact you to schedule a consultation so we can learn more about your business to see if you'd be a good fit. Its a quick, easy, and seamless process. We look forward to helping you!
CLICK HERE if you'd like to see an example of the registration page/form and to take it for a test drive to see how your customers will go though the system and become a new customer.