CONGRATULATIONS! … You've made a wise decision!
You've reached this page because you see the value of offering an Digital Birthday Club to reach new customers on a regular basis while also having the opportunity to continually market your latest deals, sales and specials to those customers on a continual basis.
As you're well aware, everyone has a birthday every year and more times than not they'll celebrate in some form or fashion.
And it's a safe bet that many if not all will tell you that they enjoy getting birthday gifts from family, friends and co-workers. However, they also enjoy getting gifts from local businesses too!
Unfortunately, most will tell you that almost never happens as 99% of most businesses don't offer birthday gifts to their local market and therefore they're missing out on an extremely effective way to attract new customers while continuing to keep the ones they already have.
Here's the deal, by offering a gift like a free meal, free tanning session, free beer or half-off mixed drinks, free car wash, free message, etc. is simply good business as it creates 'good will' with your customers as well as customer loyalty, repeat customers and most importantly, increased sales!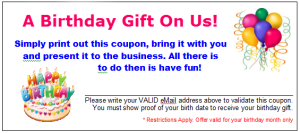 Example of The Certificate Your Customers Will Receive And Redeem
So you're asking, "What is this Digital Birthday Club going to cost me?"
There are two packages at $250/month and $325/month as well as a one-time set-up fee of $147. Both the $250 and $325 packages includes a daily Facebook advertising campaign budget of $5/day ($140, $150 or $155 per month based on the amount of days in a month), and we can utilize either the businesses Facebook account or our own Facebook accounts to perform the advertising as we want to be completely and totally transparent with our customers.
The difference between the two packages is that the $325/month package has all advertisements removed from the businesses coupon registration page, and the business is notified every time a new customer registers to receive their birthday gift.
The most important aspect of this highly effective marketing program, and one that MUST be understood (and cannot be ignored), is that the business' marketing is virtually free at that point because those new customers are now on their proprietary marketing list which they can then offer future deals, sales and specials too either through eMail and/or text message marketing!
Are you ready to get started?
Simply choose a package below, hit the 'Buy Now' button and we'll get started setting up your Digital Birthday Club (note that we use PayPal® as our payment processor).
Still have questions? Simply complete the from below and someone will get back to you so we can get those questions answered.